The University provides direct services to local communities and industries to improve energy efficiency by providing direct access to the University's Independent Power Plant (IPP), and also though workshops and seminars on energy efficiency.
The ABUAD IPP project aimed at generating lower-carbon, efficient and affordable electricity on campus and to surrounding local communities, delivers a smart mix of electricity generation from 75% renewable natural gas and 20% Compressed natural Gas as well as 5% Solar Power to local communities in Ado Ekiti.
In 2021, Afe Babalola University Ado – Ekiti (ABUAD) in partnership with Ekiti State Government has reassured residents of Eriffun Community adjacent to the University campus of more corporate social responsibility dividends. This is part of the pledge by ABUAD to provide and extend more basic social infrastructure to rural communities. These include clean power, table water, and access to good roads.
The cheering news was delivered by the duo of Aare Afe Babalola,SAN, Founder/Chancellor Afe Babalola University, Ado – Ekiti (ABUAD) and the Ekiti State Governor's representative, Prof. Modupe Adelabu at the inauguration of the Power Extension and installation of a new Transformer at Eriffun Community in Ado-Ekiti, the State Capital by ABUAD.
Professor Adelabu spoke of the Ekiti State Government's plan to continually partner with ABUAD to develop rural areas and make life worthwhile for the rural dwellers. She considered stable and clean power as essential to the socio-economic development of the State. Prof Adelabu thanked the Founder/Chancellor ABUAD, Aare Afe Babalola, SAN and the entire management of ABUAD for providing power to the community. She stated further that the gesture of ABUAD to the Eriffun Community is in concert with the State government's resolve to change the paradigm shift of rural-urban drift.
Aare Afe Babalola,SAN, Founder/Chancellor ABUAD, said he was so happy that his university is illuminating Eriffun Community which had been in total darkness for ages. He noted that it is a notorious fact that Government alone cannot provide basic infrastructure to the public. He went further to commend ABUAD Management Staff and all the staff of the Directorate of Works and Services of the University for making him fulfill another desire of giving back to the Community. It is noteworthy that ABUAD has been maintaining the government road leading to the University and its neighboring communities.
By delivering reliable and clean power, this project will reduce the energy cost incurred by rural farmers and community members on electricity (especially fossil fuel-powered generators) by 25-30% on an average monthly basis. This will reduce noise and air pollution while lowering GHG emissions from electricity.
He stressed that his University will continue to partner with the government at ensuring that Ekiti communities enjoy an uninterrupted power supply thereby making ABUAD a champion in actualizing the United Nations Sustainable Development Goals (SDGs) of providing affordable and clean energy to the local communities.
In addition, the Research and Innovation Directorate of Afe Babalola University, Ado Ekiti (ABUAD) hosts a wide range of Community Development Seminars aimed at providing opportunities for local community to learn about the importance of energy efficiency and clean energy. The seminars focus on energy citizenship and sustainability business, with the aim of providing the local community with tools needed to start and commercialize their own energy efficiency ventures and innovations.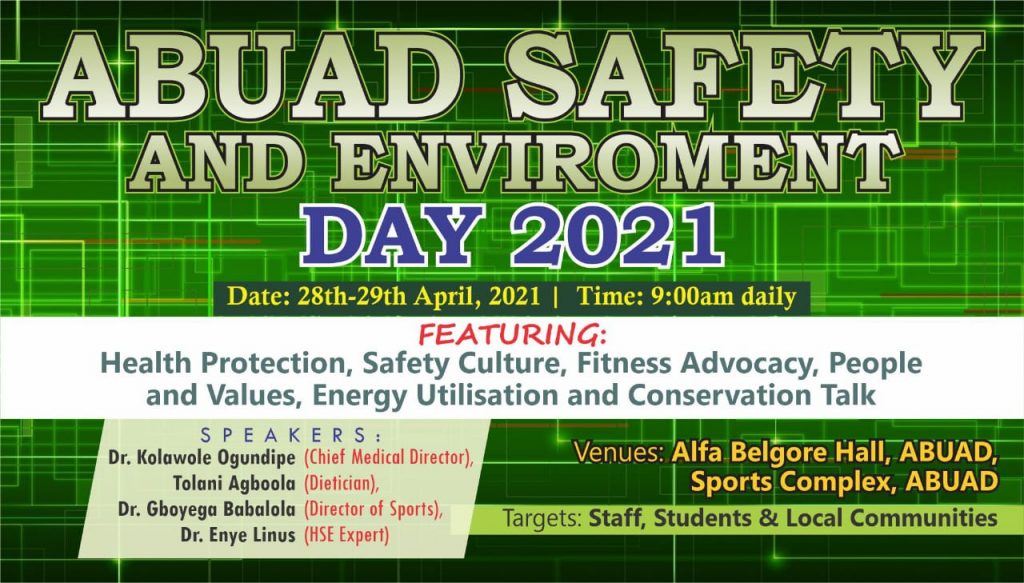 Community development seminars are open to anyone who is 15 years or older, and has a love for learning and personal development. These seminar sessions are offered in five sessions in total (two hours a class), over a two-week period, free of charge, and are offered in English. Participants who successfully partake in a minimum of four out of five classes receive a certificate of completion. These seminar courses are not credit-bearing and are ineligible for transfer towards any formal degree or program at ABUAD. Continue reading from Below:
---
ABUAD COMMUNITY SEMINAR SERIES 2021
ABUAD-COMMUNITY-SEMINAR-SERIES-2021

---
https://thenationonlineng.net/abuad-inaugurates-independent-power-project/